Our People
Professor Liza Lim
Professor in Composition
Professor Liza Lim is one of Australia's leading composers. She has been commissioned by some of the world's pre-eminent orchestras including the Los Angeles Philharmonic, Bavarian Radio Orchestra, BBC Symphony, WestdeutscherRundfunk and SudwestRundfunk Orchestras, and was composer in residence with the Sydney Symphony from 2005-2007. Her music has been featured at Festival d'Automne à Paris, Holland Festival, Venice Biennale, Tage für neue musik Zürich, amongst many other festivals, and she has made operas and installation works commissioned by the Adelaide, Melbourne, Perth and Brisbane Festivals. She has had close creative collaborations with ensembles such as MusikFabrik, Ensemble Intercontemporain, ELISION, Ensemble Modern, Arditti String Quartet and ICE New York.Lim has [...]
Professor Liza Lim is one of Australia's leading composers. She has been commissioned by some of the world's pre-eminent orchestras including the Los Angeles Philharmonic, Bavarian Radio Orchestra, BBC Symphony, WestdeutscherRundfunk and SudwestRundfunk Orchestras, and was composer in residence with the Sydney Symphony from 2005-2007. Her music has been featured at Festival d'Automne à Paris, Holland Festival, Venice Biennale, Tage für neue musik Zürich, amongst many other festivals, and she has made operas and installation works commissioned by the Adelaide, Melbourne, Perth and Brisbane Festivals. She has had close creative collaborations with ensembles such as MusikFabrik, Ensemble Intercontemporain, ELISION, Ensemble Modern, Arditti String Quartet and ICE New York.Lim has been particularly associated with the ELISION Ensemble since the group's inception, notably composing 3 operas, The Oresteia (1993), Moon Spirit Feasting (1999) and The Navigator (2008) that the group performed in nine seasons in Australia, Europe and Japan. Her fourth opera, Tree of Codes (2015), commissioned and presented by Cologne Opera, Musikfabrik and Hellerau in Cologne and Dresden was described as 'a major contribution to the music theatre of our time' (Egbert Hiller, Neue Zeitschrift für Musik, May 2016).
Research into cross-cultural practice in music is at the heart of Lim's compositional work seen in her extensive catalogue with Casa Ricordi (Milan, London & Berlin) and on CD labels such as Hat Hut, WERGO, ABC-Classics, Neos, and Winter & Winter. She has published journal articles on areas such as intercultural exchange and aesthetics, performer collaboration and distributed creativities. Recent works include How Forests think (2016) for Chinese sheng and ensemble premiered by Wu Wei and the ELISION Ensemble at BIFEM in Bendigo and subsequently toured to festivals in Zurich and Huddersfield; and Ronda – The Spinning World (2016), a work re-conceiving the Brazilian instruments of Walter Smetak, commissioned by Ensemble Modern.
Liza Lim has been, since 2008, Professor of Composition and Director of CeReNeM, the Centre for Research in New Music at the University of Huddersfield, UK where she established the highly regarded HCR CD label as well as the Divergence Press and CeReNeM Journals. Now based in Melbourne, she continues in a part-time role at Huddersfield next to her role at the Sydney Conservatorium of Music. She is Visiting Professor of Composition at Shanghai Conservatory, China during 2017. Limis in demand as a guest speaker, recently giving talks for Harvard's Barwick Colloquium Series and at Columbia and Stanford Universities as well as teaching at international summer schools at Darmstadt, Royaumont and Beijing Central Conservatory of Music. Her recent research has been supported by grants from the British Academy, an Australia Council Interdisciplinary Fellowship and Ian Potter Foundation Senior Fellowship. Other recognition for her work includes the Peggy Glanville Hicks Residency (1995), Paul Lowin Prize for Orchestral Composition (2004), Fromm Foundation Award (2004) and DAAD Artist-in-residence Berlin (2007-08).Liza Lim received her PhD from the University of Queensland, an MMus from the University of Melbourne and BA(mus) from the Victorian College of the Arts. She is a founding member of the Academy of the Arts of the World, Cologne and curated the music programme for their inauguration in 2012.
Full academic profile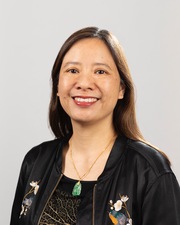 Areas of Study
Composition and Music Technology
Location
C41 - Sydney Conservatorium of Music