Our People
Dr Catherine Ingram
Postdoctoral Research Fellow
Catherine Ingram (英倩蕾) is an ethnomusicologist and an ethnographer of contemporary Chinese culture. Her main focus is Chinese musical culture, and especially the music of China's minority groups. She is the first non-Chinese to complete substantial research into Kam (in Chinese, Dong 侗) minority song—including study of Kam "big song," the important Kam song genre that was inscribed on UNESCO's Representative List of the Intangible Cultural Heritage of Humanity in 2009 and that was the focus of her doctoral research (Ethnomusicology/Chinese studies, University of Melbourne, 2010). Before commencing a postdoctoral fellowship at the University of Sydney in late 2014, [...]
Catherine Ingram (英倩蕾) is an ethnomusicologist and an ethnographer of contemporary Chinese culture. Her main focus is Chinese musical culture, and especially the music of China's minority groups. She is the first non-Chinese to complete substantial research into Kam (in Chinese, Dong 侗) minority song—including study of Kam "big song," the important Kam song genre that was inscribed on UNESCO's Representative List of the Intangible Cultural Heritage of Humanity in 2009 and that was the focus of her doctoral research (Ethnomusicology/Chinese studies, University of Melbourne, 2010). Before commencing a postdoctoral fellowship at the University of Sydney in late 2014, Catherine was a Newton International Fellow at the School of Oriental and African Studies (SOAS, University of London, 2013-2014), a Research Fellow at the International Institute of Asian Studies (University of Amsterdam, 2011), and an Endeavour Australia Cheung Kong Research Fellow (Research Institute for Ritual Music in China, Shanghai Conservatory of Music (上海音乐学院), 2010-2011).
Since 2000 Catherine has spent many years working and conducting research in China. As part of her research she was invited to sing with Kam friends and teachers in many performances of various Kam musical genres, and learnt to speak a dialect of the Kam language (a Tai-Kadai language with no widely used written form and completely different from Chinese). Her research into and involvement in Kam music-making have featured in a range of Chinese print, broadcasting and online media, including in two documentaries produced by Guizhou Province TV, China (2006, 2011).
In Australia, the courses that Catherine has lectured include The Ethnography of Music, The Politics of Gender in East Asia and Human Rights in East Asia. In 2014, she was visiting lecturer for a five-part bilingual English/Chinese postgraduate seminar series on musical ethnography at the Research Institute for Ritual Music in China (Shanghai Conservatory of Music). She has delivered guest lectures at SOAS (University of London, UK); Leiden University (The Netherlands); the Interdisciplinary Center for East Asian Studies at Goethe University (Frankfurt, Germany); Shanghai Conservatory of Music (China); Guangxi University for Nationalities (广西民族大学, China); National Chengchi University (國立政治大學, Taiwan); National Tsinghua University (國立清華大學, Taiwan); University of Hong Kong (香港大学); and the Melbourne Conservatorium of Music and the Asia Institute at the University of Melbourne. She was also English lecturer at Central South University (中南大学), China, from 2001-2003.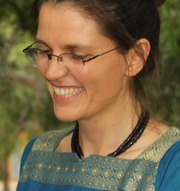 Areas of Study
Location
C41 - Sydney Conservatorium of Music