Our People
Associate Professor Neil McEwan
Conducting, Music Education and Choirs
Neil McEwan trained as a chorister and organist at St Mary's Cathedral in Auckland, New Zealand. He continued his studies through the Royal Schools of Music, Trinity College of Music, London and the University of Durham. He holds a master's degree in musicology from the University of NSW (1994) and a PhD in Gregorian chant semiological research from the University of Sydney (2003). While in France and Germany, he studied Gregorian chant semiology and paleography at the celebrated Abbey of Solesmes; with Professor Siegfried Koesler at the Würzburg Musikhochschule; and with Gregorian scholar, DOM Professor Johannes Bechmans Göschl. He also studied advanced choral conducting techniques in Stuttgart and Berlin and orchestral conducting at the Meistersinger Konservatorium in Nürnberg [...]
Neil McEwan trained as a chorister and organist at St Mary's Cathedral in Auckland, New Zealand. He continued his studies through the Royal Schools of Music, Trinity College of Music, London and the University of Durham. He holds a master's degree in musicology from the University of NSW (1994) and a PhD in Gregorian chant semiological research from the University of Sydney (2003). While in France and Germany, he studied Gregorian chant semiology and paleography at the celebrated Abbey of Solesmes; with Professor Siegfried Koesler at the Würzburg Musikhochschule; and with Gregorian scholar, DOM Professor Johannes Bechmans Göschl. He also studied advanced choral conducting techniques in Stuttgart and Berlin and orchestral conducting at the Meistersinger Konservatorium in Nürnberg with Maestro Werner Andreas Albert. Neil was awarded a Churchill Fellowship in 1994 for further overseas study in these areas. In 2009 he was made a member of the Order of Australia (AM) for services to music research and choral conducting, and in the same year he was appointed a fellow of the Royal School of Church Music (FRSCM) for services to church music.
Neil continues to work on performance practice issues and ideals in his work with students, and as a performer/researcher regularly gives premieres of contemporary Australian choral works. He has been invited and continues to give many research/demonstration papers on Gregorian chant semiology at international conferences and universities. As director, Neil has led the University of Sydney Conservatorium Chamber Choir on tours to the USA, Canada, United Kingdom and Europe and has won prizes at the Bartok and Vienna Competitions. In 2012 the Chamber Choir toured to Germany, England and France singing in Würzburg Cathedral, Westminster Abbey and Notre Dame. He is also the director of the Conservatorium Choir and the choir of Christ Church St Laurence.
Neil McEwan transcribed a number of chants from the Rimini Antiphonale of 1328 housed in the State Library of New South Wales and prepared and performed these chants incorporating medieval signs and letters from 10th century manuscripts. In November 2011 the History Channel recorded a documentary program on the Rimini Antiphonale with the St Laurence Gregorian Schola and in 2012 ABC Classics released a Gregorian chant CD on the national and international market of the Singers of St Laurence directed by Neil McEwan.
Full academic profile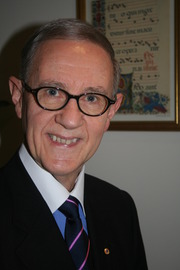 Areas of Study
Conducting
Location
C41 - Sydney Conservatorium of Music