Our People
Professor Kathryn Marsh
Professor in Music Education
With a PhD in ethnomusicology and a professional background in music education, Professor Kathryn Marsh's research interests include children's musical play, children's musical creativity, primary and elementary music education, cultural diversity in music education, the influence of the media on children's learning and creation of music and the role of music in the lives of refugee children. She has written numerous scholarly and professional publications and is regularly invited to present the results of her research internationally. Her book The Musical Playground: Global Tradition and Change in Children's Songs and Games, published by Oxford University Press, won the British Folklore Society's Katharine Briggs Award and the American Folklore Society's Opie [...]
With a PhD in ethnomusicology and a professional background in music education, Professor Kathryn Marsh's research interests include children's musical play, children's musical creativity, primary and elementary music education, cultural diversity in music education, the influence of the media on children's learning and creation of music and the role of music in the lives of refugee children. She has written numerous scholarly and professional publications and is regularly invited to present the results of her research internationally. Her book The Musical Playground: Global Tradition and Change in Children's Songs and Games, published by Oxford University Press, won the British Folklore Society's Katharine Briggs Award and the American Folklore Society's Opie Award and has been widely acclaimed. She is the editor of Research Studies in Music Education and a member of the editorial boards of Psychology of Music and the International Journal of Play. She is also section editor of the seminal Oxford Handbook of Music Education (2012) and has recently served on the editorial boards of the International Journal of Music and Research Studies in Music Education.
Professor Marsh has been the recipient of major national research grants which have involved large scale international cross-cultural collaborative research into children's musical play in Australia, Europe, the UK, USA and Korea. Her field recordings from this research are now held as a special collection in the British Library. Current national grants from the Australian Research Council and Office of Learning and Teaching are enabling her involvement in research and tertiary teaching projects that respectively investigate the interface between intergenerational transmission of Aboriginal performance genres and school curriculum in the Kimberley area of Western Australia and develop tertiary student cultural competence through service learning with Aboriginal communities in central Australia.
As a member of a cross-disciplinary research team, she conducted the National Review of School Music Education for the Department of Education Science and Training, exploring the status and quality of music education in Australian schools. She is frequently invited to advise on curriculum development at the state and national levels and has been a visiting fellow at the University of Washington and University of London.
Full academic profile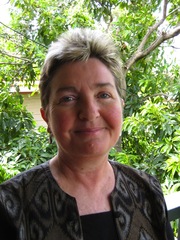 Areas of Study
Music Education
Location
C41 - Sydney Conservatorium of Music