New Appointments
Carl Vine | Senior Lecturer in Composition
Start date: Semester 1 2014
Carl Vine first came to prominence in Australia as a composer of music for dance, with 25 dance scores to his credit. His catalogue includes seven symphonies, nine concertos, music for film, television and theatre, electronic music and numerous chamber works. His piano music is played frequently around the world. Although primarily a composer of modern 'classical' music he has undertaken tasks as diverse as arranging the Australian National Anthem and writing music for the Olympic Games (1996 Atlanta Olympics, 'Sydney 2000′ presentation).
---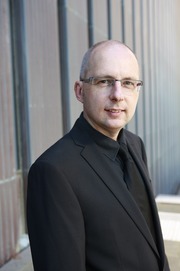 Paul Stanhope | Senior Lecturer in Composition
Start date: Semester 1 2014
Paul Stanhope (b. 1969) is a Sydney-based composer and a leading figure in his generation. He has had prominent performances of his works in the UK, Europe, Taiwan and Japan as well as North and South America. After studies with Peter Sculthorpe, Paul was awarded the Charles Mackerras Scholarship which enabled him to study for a time at the Guildhall School of Music in London in 2000.
---
Simon Barker | Lecturer in Jazz
Start date: 1 February 2014
"Barker has few peers worldwide for flexibility, resourcefulness, imagination and a complete absence of rhythmic clichés." John Shand (SMH 2010)
"Simon Barker is one of Australia's most extraordinary jazz drummers, playing with an intensity that is virtually unrivalled. Through his transcultural performances, master classes and musical explorations in Korea, Japan, China, and elsewhere, Barker has considerably extended the vocabulary of Australian jazz." Tony Mitchell (Music Forum 2010)
Simon studied in Australia with John Collins, and in New York with John Riley, Keith Copeland, Marvin "Smitty" Smith, Kim Plainfield and Mike Clarke. Since returning home in 1990 he has performed throughout Australia, Europe, Asia and the US including a 17-city Tran-Siberian concert tour of Russia with the Mark Isaacs trio.In 2005 Simon created Kimnara Records, an independent record label presenting new music by Australian improvisers. In 2011, Simon completed a PhD at the University of Sydney.
He is involved in several collaborative projects including Chiri (Scott Tinkler, Bae Il Dong), Band of Five Names, Showa 44 (duo with Carl Dewhurst), and Lost Thoughts (duo with Scott Tinkler). In 2005, Simon was commissioned by the Australian Embassy Seoul to create a cultural exchange event for the 2005 Australia Month Festival in Korea. This led to the formation of Daorum, a group featuring pansori singer Bae Il Dong, Korean traditional percussionist Kim Dong Won, Phil Slater, Matt McMahon and Carl Dewhurst. The group has since performed at the Lincoln Center for performing arts, New York, as well as numerous international arts festivals.
Simon performs regularly with many of Australia's most established ensembles including the Phil Slater Qt, the Australian Art Orchestra, Vince Jones, Katie Noonan, Paul Grabowsky Quintet, Matt McMahon trio, Sandy Evans' GEST8, as well as various groups led by Scott Tinkler, including the Scott Tinkler Trio and Drub.
In the past Simon has performed and recorded with a great variety of local artists and ensembles including John Sangster, Mark Simmonds' Freeboppers, Bernie McGann, Don Burrows, Dale Barlow, Tim Stevens' Trio, Mark Isaacs Trio, Judy Bailey, Ian Chaplin, James Muller, Clarion Fracture Zone, Roger Dean, Julian Wilson, James Greening, and Baecastuff. He has recorded over sixty CDs with local and international jazz artists including ARIA winner "Fire" by Mark Simmonds' Freeboppers. Simon has also played with many international touring artists including Marylyn Crisspell, Tim Berne, Joe Lovano, Ed Schuller, Makoto Kuria, Claire Martin, Sheila Jordan, Gary Smulyan, John Hicks and Carlos Ward.
Since 1997, Simon has been actively promoting Australian jazz ensembles in North Asia through the development of annual performance opportunities in Korea and China, representing the creation of a regional touring circuit for Australian musicians.
Equally active in the jazz education field, Simon gives workshops and private tuition at universities throughout East Asia including the Beijing Central Music Academy, Mahidol University (Thailand), All That Jazz series (Hong Kong), Hanoi Jazz co-op (Vietnam), Seoul Jazz Academy (Korea) and the Christchurch Polytech (NZ). In 1998 and 2000, he was a guest performer for the Canberra School of Music's Jazz Initiative. In 2005 he was guest lecturer and moderator at The University of Canterbury, Christchurch.
His interest in developing new music with East Asian musicians has also led to collaborations with the Japan Australia Jazz Orchestra (2006), Hoe Jin Oh Trio (Korea, 2003, 2004), drummer/composer Won Il (Korea, April 2002), Min young Seok (Korea, 2001/02), Eugene Pau (Hong Kong, 1998), and improviser Kim Dae Hwan (Korea 1999). Simon has been a guest speaker for the Asialink Leadership Program each year since 2003, and in 2002 was awarded an Asialink residency grant to engage with musicians and arts agencies in South Korea.
---
John Lynch | Wind Ensemble Conductor
Start date: 1 July 2014
Dr. John Lynch is the Director of Bands and Professor of Music at The University of Georgia where he guides all aspects of the band and graduate and wind conducting programs. Previous positions include those at the University of Kansas, Northwestern University, and Emory University.
He has ten years of high school teaching experience in his native New York State where he was the national recipient of the Stanbury Award for outstanding teaching and conducting. Dr. Lynch holds degrees from Indiana University, the Eastman School of Music, and CCM. He has conducted throughout North America, South America, Europe and Asia including invited tours of China, Argentina and Europe, and has performed at the national conferences of CBDNA, ABA, MENC, The Midwest Clinic, and at GMEA, KMEA and Interlochen. Recent conducting engagements include the West Point Band, the Army Field Band, and the United States Marine Band. Dr. Lynch has held residencies at the Vivaldi Conservatory in Alessandria, Italy, the Conservatory in Vilnius, Lithuania, and the University of Costa Rica. He has three recordings on the Naxos label including the debut of the Wind Band Classics Series. His recordings have been broadcast throughout the United States, Europe and Japan. He is a member of the American Bandmasters Association, CBDNA, Phi Beta Mu, and WASBE, and is the recent recipient of The American Prize and UGA's Creative Research Medal, and a Northwestern Fellow for Teaching Excellence.
---
Eduardo Diazmuñoz | Chair of Conducting
Start date: 5 August 2013

After an international search and a unanimous agreement of the search committee chaired by Deputy Vice-Chancellor and Provost Professor Stephen Garton, it gives us great pleasure to announce that Maestro Eduardo Diazmuñoz has accepted our offer to join the faculty of the Sydney Conservatorium at the University of Sydney as Professor of Conducting and Music Director of the Conservatorium orchestra. Maestro Diazmuñoz brings with him over 35 years experience as a conductor, composer, pedagogue and administrator with both tertiary institutions and professional music organizations. Professor Diazmuñoz will begin a partial appointment 5 August – 30 September 2013 then begin full time on 15 February 2014.
Show Eduardo's biographyHide Eduardo's biography
Mexican-Spaniard conductor Eduardo Diazmuñoz has won worldwide recognition as one of the most versatile musicians of his generation. Well known as conductor, composer, pianist, educator, promoter, organizer, Arts advocate, producer, editor, and gifted lecturer, throughout his 37-year conducting career in 15 countries, he is regarded as a "complete" musician who fuses "old school" training – forged under mentors Léon Barzin and Leonard Bernstein – with love, commitment and passion, and a musical curiosity that has led to some 150 premieres. He began his musical training as a pianist but got to play percussion, cello and self-taught himself to play several other instruments which he managed to continue for several years, until he took the decision of devoting his energy and time to conducting and composing.
Diazmuñoz first came to public attention at age 22 in his Palacio de Bellas Artes (Fine Arts Palace) debut in Mexico City. Since that time, he has conducted over 100 orchestras, 15 of them as resident conductor, and has occupied posts ranging from Assistant Conductor to General Music Director in 6 countries; he founded 3 of these ensembles. He has recorded over 35 CDs for 24 labels championing new music.
Among the many awards he has received, he has been the recipient of the coveted yearly award granted by the Mexican Union of Theatre and Music Chronicles an unprecedented four times (1978, 1987, 1997, 2002). For his intense and relentless activity, he received the 2003 Musician of the Year Award from the International Biographical Centre in Cambridge, England. He was the first Mexican conductor to have been nominated three times for a Latin Grammy Award, at the helm of three different orchestras; 2 times in the Best Classical Album category, and the first one to actually have obtained the valued statuette in the Best Instrumental Album category. He has also received two Golden Discs and a Platinum Disc for his recordings sales.
His commitment towards education has continued through his full-time positions throughout the years at the National Autonomous University (UNAM) and the National Conservatory of Music in Mexico City, the Société Philharmonic in Paris, the New World School of the Arts in Miami, and as member of the National Council of the Music Academy Fermatta in Mexico City, he holds the post of Dean of Academic Review. Since 2004, he has been Artistic and Music Director of the Opera Division at the University of Illinois in Urbana-Champaign, USA. He also reinstated and was the Artistic and Music Director of the New Music Ensemble at the School of Music for five years. Diazmuñoz has been involved in master classes and summer courses, and has served as juror for international competitions and professional examinations in the United States, France, Spain, Mexico, and various countries of Central and South America.
In the 2010 summer he composed, conducted, played, and produced the music for the Mexican Feature Film Espíritu de Triunfo, Spirit of Triumph, which recently premiered nation-wide in Mexico, and is expected to be distributed internationally during 2013. During this year, he has been composing a Symphonic Suite based on the themes he wrote for the above mentioned film, so this music may have an independent life outside the movie theatres.

---
Umberto Clerici | Lecturer in Cello
Start date: Semester I, 2014
Umberto Clerici began the study of cello when he was five at the Suzuki School of Turin. A laureate or prizewinner at the most important international cello competitions (the "Antonio Janigro" in Zagreb, the "Rostropovich" Competition in Paris and the Tchaikovsky in Moscow), he attended the classes of Mario Brunello, David Geringas and Steven Isserlis. In 2007 he took the master's degree (PhD course) at the University of Music Nürnberg-Augsburg with Julius Berger.
Show moreShow less
In April of 1999 he made his debut as soloist playing Haydn's D Major cello concerto in Japan. Afterwards he performed with many orchestras including Brighton Philarmonic, Philarmonia Wien, "I Pomeriggi Musicali" in Milan, Orchestra of Rome, Filarmonica di Torino, Zagreb Soloist, Orchestra da Camera di Mantova, Symphony Orchestras of Istanbul, Ankara and the Zagreb Philharmonic Orchestra collaborating with conductors like Keri-Lynn Wilson, Lu Jia, Dimitri Sitkovetzki, Barry Wordsworth, Ola Rudner and Lukas-Peter Graf.
He performed in some of the most important concert halls such as the Weill Recital Hall at  Carnegie Hall in New York, the Big Hall of the Musik Verein in Wien and the "Auditorium Parco della Musica" in Rome. In 2003 he made his debut at the Salzburg Festival.
He recorded the first Saint-Saens cello concerto and together with "Amadeus", the most important Italian magazine for classical music, a cd with music for cello and orchestra by Tchaikovsky and Shostakovich.
He received many Awards: between them, in July of 2003 he received in Florence a prestigious prize called "Galileo 2000" together with the famous Italian violinist Uto Ughi and the Nobel prize-winner for Peace Simon Peres, the Mozarteum prize in Salzburg and the "Pressenda Award" 2005 for the best young soloist of the year.
During the year he teaches at the Perosi Academy in Biella and in the summer he teaches together with Julius Berger at the Salzburg Mozarteum.
Since April of 2001 he plays with the "Trio di Torino".
He plays a Giovan Battista Guadagnini cello (Turin 1769) that belonged to the famous Italian cellist Antonio Janigro.